JAZZY PAWZ-N-WAGZ
DOG TRAINING
Welcome to Jazzy Pawz-n-Wagz Dog Training!!!  
Everyone wants their dog to be "the best dog ever" allow me to teach you how to work with your dog to become a well-mannered, well- behaved part of your family. I will coach you how to reinforce the training I provide to help your dog be "the best dog ever!"  By using positive reinforcement, science-based, clicker training techniques, I will teach you how to communicate with each other through your body language to help minimize frustration on both ends of the leash. You will see the bond and connection of love and trust grow between you and your beloved pet. When you promote the human-animal bond through praise, toys, food and other forms of positive reinforcement dogs stay better focused, learn faster, stay calmer and adapt better. 
GET IN TOUCH
SERVICES
Hi there! My name is Nanette
About me
 My method of training is based on scientific learning theories, reward based and force-free training. i.e. Positive Reinforcement training.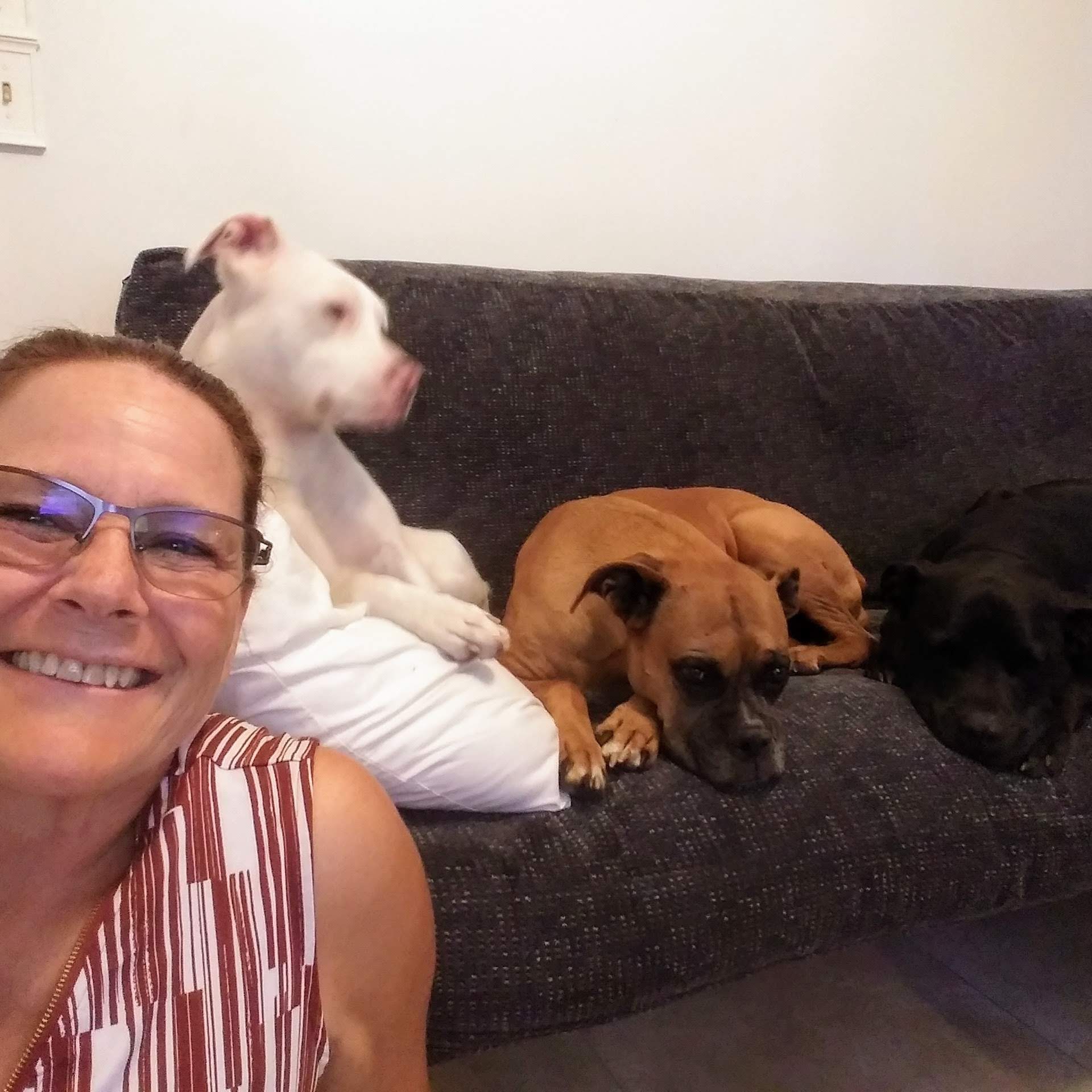 Dog Trainer
I am a positive reinforcement dog trainer. I have been dog training for 7 years teaching basic manners behavior modification and shelter/rescue work. I use science-based theories and positive reinforcement ONLY. I don't believe a dog should be punished into or for a behavior. My mission is for you and your dog to live in harmony by learning to communicate with each other through body language.
I became a dog trainer graduating from Animal Behavior College in 2016 where I earned my certification as an ABC Certified Dog Trainer. (ABCDT)
(ABC) is approved by the Bureau for Private Postsecondary and Vocational Education and is an internationally recognized school.  My year-long commitment to this program provided me with a formal education in canine obedience training and understanding behavior and its motives. I have hands-on experience training many different dogs in many different scenarios learning the different temperaments and behaviors of each dog. I am also a member of the Association of Professional Dog Trainers (APDT)
I volunteered at a dog rescue from 2018-2022 training and walking dogs. Training gives them structure and a jump start in finding their forever home.

I volunteered at an animal shelter for 9 months, training and walking dogs, while still in school.

I was an intern for 3 months where group classes and puppy socialization classes were held

I worked at a board and train facility for 5 months learning different ways to build trust and confidence with the dogs 

I work solely with private lessons and have had great success with the owners and their pups. **see testimonials and Google reviews.
I continue to work on my education in dog training by attending dog training conferences, trade shows and continuing education programs.
ABC COLLEGE
CERTIFIED  TRAINER
Basic MANNERS
Week 1 the name game, sit, down, stand, touch, release cue

Week 2 sit/down-stay, focus, leave it, mat work, drop

Week 3 sit/down-stay, intro to heel, heel with focus

Week 4 sit/down-stay with distractions, loose leash walking, recall

Week 5 loose leash walking with distractions, recall

Week 6 Review of all behaviors from weeks 1-5 and GRADUATION!!!
Behavior Adjustment
Reactive displays in response to people, dogs or other animals

Separation Distress
Fearful or anxious in response to people, dogs or other animals
Fearful or anxious in response to sounds, objects, or storms
Protective/possessive of/aggressive around food, toys, bed, or other objects (resource guarding)
Jumping to greet people
Reactive leash walking
Puppy concerns 

Next level training
All behaviors learned in Basic Manners with higher distractions, off-leash training, and freestyle recall.
Dog walking services available
What Drives Us
My Mission
To provide you with a better understanding of the way humans and dogs communicate with each other through our body language. And, to help you and your dog live in harmony for many years.
Current & PAST clients
Happy Pets
Douglas & Henry
Both Male
HAVING A GOOD RELATIONSHIP WITH YOUR DOG MAKES EVERYTHING MUCH EASIER FOR BOTH OF YOU
Philosophy & Methods
My training philosophy is…
Every dog is teachable

Every human is teachable

It's about building trust and not exerting "control"

Good behavior takes time, it doesn't happen overnight
Training should be fun and educational for both you and your dog

Dogs learn about how we live by watching our every move, they listen to our body language.

Through socializing them and training and they will become "the best dog ever"

A dog SHOULD NEVER be punished into or for a behavior
Timing is paramount in training
My training methods and tool box include…
Clicker reward based training

Positive reinforcement/negative punishment (treats, toys, praise/taking away attention, toys, praise)

capturing/shaping and luring techniques to teach behaviors

Front clip harnesses or flat buckle collars

Desensitization and classical counterconditioning

Behavior adjustment training i.e. click the trigger or "look at that" click for calm methods for reactivity

Proper nutrition and exercise

Relaxation methods including calming oils, massage and relax on a mat.
what people are saying
Testimonials
I have two rescue dogs, both of whom had some behavioral issues when we got them.  In just a matter of weeks, Nanette's work with our dogs (and with us, of course) had them behaving beautifully.  The dogs really responded to her positive methods of rewards, and they loved the attention and the challenges of training.  I appreciated that Nanette not only gave us tips on training, but 'homework' so that we could work with the dogs during the week, reinforcing the learning, and then a review session that helped solidify the progress.  I highly recommend Nanette as the best thing that could happen for your dog's behavior and well being and your peace of mind with your dog!!
Dana Miller
Nanette Troche was an amazing, caring, compassionate and patient trainer! Her understanding of the many demenor's of the Boxer breed is truly special. She was able to help me both during the scheduled training time and also when I needed to contact her outside of training time and ask questions. Her way of teaching is very understandable and easy to follow which makes the process that much more smooth. My experience with her was nothing short of amazing and stress free. Having her by my side helping me through the training made the whole experience so extremely pleasant. I would do additional training with Nanette Troche again in a heartbeat.
Francine Benedetti
Nanette is/was such a phenomenal influence not only on my boxer, Oscar but myself and family. She is always on time and worked relentlessly on all behavior concerns that I had with my boxer pup. Highly recommend A++service and value!!! Nanette is an invaluable resource and follows through with commitment!
Charles Fulton
We got Bagheera from a shelter. He was shy, timid, and heartworm positive. When we got him home we realized he wasn't the dog we saw at the shelter. He was riddled with anxiety. We tried the box store training programs but they just intensified his anxiety.
I started working independently with Nanette as my husband wanted nothing to do with the training process anymore as he had grown frustrated. She came to our home which helped with his anxiety. She quickly noticed the frustration of both of us and realized that if Bagheera was going to be successful, then I needed the confidence that he could do it. She started working on how I talked to him and how I held my confidence and started seeing change. 
She gave me lots of new advice and tricks to help ease Bagheera's anxiety. He has a mat that he does his best with. We even moved to working in the front yard with neighbors and other dogs walking by without him freaking out. He still does have his anxiety but thanks to Nanette, we know how to manage it!
Emily Roth-Stevenson
The initial consultation is free and takes about 1-1.5 hours. From there, if you feel I'm the right fit for you and your dog, we can discuss package options and/or payment options.

Discounts available when purchasing multiple packages.
Payment plans are also available
Week 1 the name game, sit, down, stand, touch, hand signals, release cue

Week 2 sit/down-stay with duration, mat work, focus, leave it, drop 

Week 3 sit/down-stay with distance, intro to heel, heel with focus

Week 4 sit/down-stay with distractions, moving heel, loose leash walking, recall

Week 5 loose leash walking with distractions, recall, puppy ping pong, hide-n-seek

Week 6 Review of all behaviors from weeks 1-5 and GRADUATION!!!
5 Weeks
Private Lessons for next level
All behaviors learned in Basic Obedience

Higher distractions,

Off-leash training, and

Freestyle recall
I will guide you through the resolution of your dog's problem behaviors.

Consults include discussion, demonstration and hands-on work with your dog, a completely personalized training plan, and ample resources and follow-up.

 
Servicing Port St. Lucie to Jupiter
625 SW Pueblo Terrace
Port St Lucie 34953